Boleh ke wanita mengandung untuk bersenam?
To join our mailing list and never new muslimah update!
SENAMAN APA YANG SESUAI SEMASA MENGANDUNG?
Kebanyakan exercise adalah selamat untuk dilakukan ketika mengandung, selagi anda berjaga-jaga dan tidak berlebih-lebihan.
Senaman paling selamat dan bagus adalah swimming berenang, berjalan santai, senaman kayuh basikal indoor dan beberapa senaman aerobic yang kurang impak (biasanya diajar oleh certified aerobics instructor). Aktiviti-aktiviti ini baik kerana mempunyai risiko kecederaan yang rendah, bermanfaat pada tubuh dan boleh dilakukan sehingga anda bersalin.
Badminton dan tenis secara umumnya senaman yang selamat, tetapi bila anda mengandung, anda sudah mengalami perubahan keseimbangan badan. Jadi ia akan memberi kesan kepada reaksi pantas anda jika dibandingkan sebelum anda mengandung. Aktiviti seperti jogging juga boleh dilakukan secara bersederhana. Anda disarankan untuk memilih senaman yang tidak memerlukan keseimbangan dan koordinasi tubuh yang tinggi, dikhuatiri jatuh dan akan memberi kesan pada kandungan anda.
SENAMAN APA YANG PATUT DIELAKKAN KETIKA MENGANDUNG?
Ada beberapa aktiviti senaman yang akan merbahaya jika dilakukan ketika mengandung. Elakkan:

Menahan nafas ketika beraktiviti

Aktiviti yang mempunyai potensi untuk jatuh (contoh seperti skating, rollerblade)
Sukan yang melibatkan sentuhan dengan pihak lawan seperti bola sepak dan bola jaring.
Aktiviti yang memerlukan anda melompat, skipping, hopping dan bouncing.
Membengkokkan lutut, sit-ups penuh, angkat kedua-dua belah kami dan menyentuh jari kami dalam keadaan kaki lurus.
Melompat ketika membuat regangan badan.
Senaman yang memerlukan anda baring terlentang lebih daripada 3 minit (terutamanya ketika bulan ke-3 anda mengandung)
Senaman ketika cuaca panas dan lembab.
Senaman berat diikuti dengan tempoh yang lama tanpa aktiviti.
Scuba diving.
GUIDELINE ASAS UNTUK BERSENAM KETIKA MENGANDUNG
Senaman yang anda lakukan itu perlulah menguatkan tubuh badan anda. Sentiasa mulakan senaman anda dengan 5 minit warming up dan 5 minit lagi untuk stretching.
Ini anda guideline asas yang boleh anda ikuti: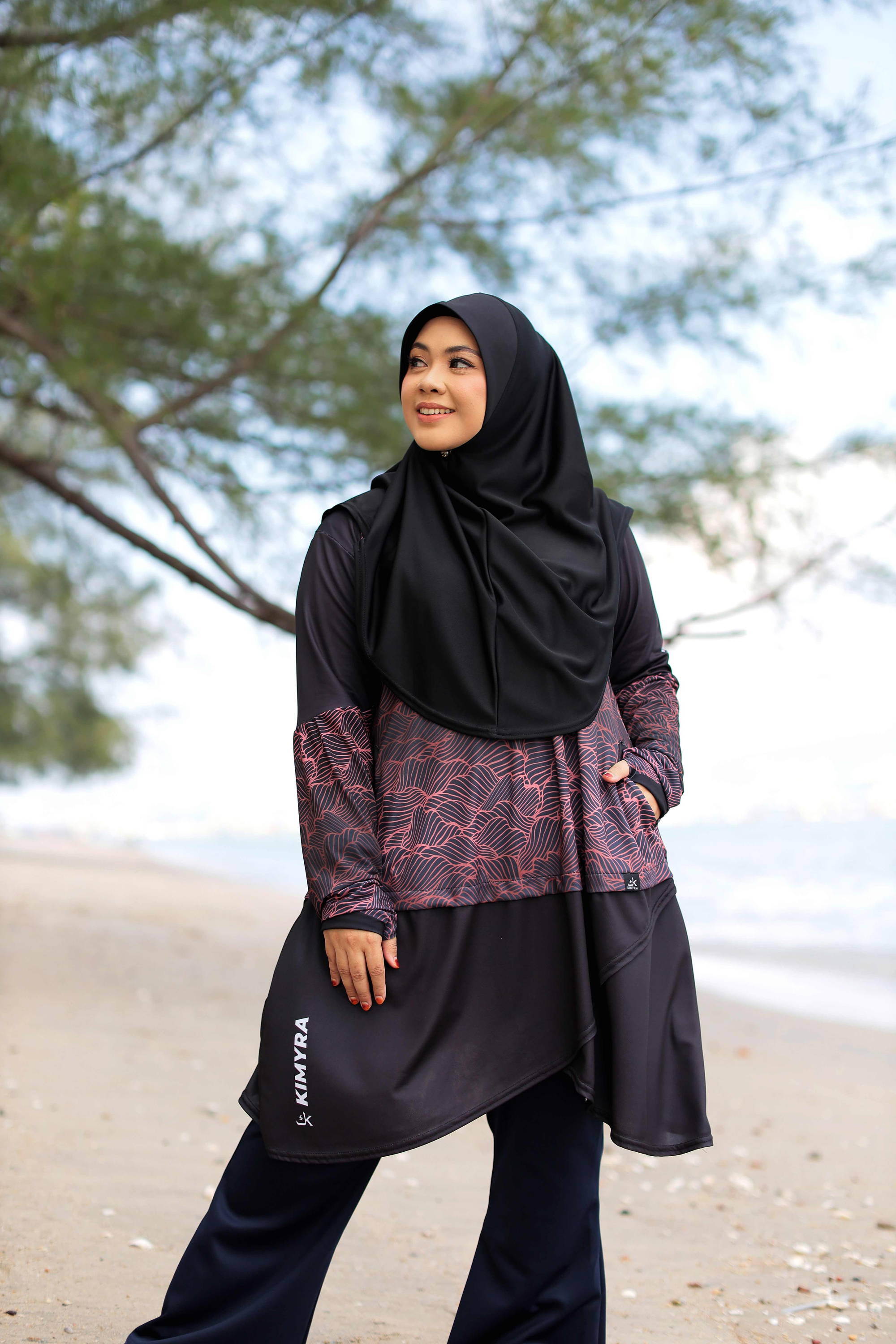 Pakai pakaian yang loose dan tidak ketat. Kami rekemenkan pakaian daripada KIMYRA™. Saiz yang ada sehingga 8XL, malah ada breastfeeding zip.
Pilih kasut yang sesuai dengan jenis senaman yang anda ingin lakukan. Pemilihan kasut yang baik dapat mengurangkan risiko kecederaan.
Bersenam di atas permukaan yang rata untuk menghindarkan kecederaan.
Dapatkan kalori yang mencukupi untuk anda (tambahan lagi 300 kalori sehari berbanding sebelum anda mengandung).
Berhenti makan sejam awal sebelum bersenam.
Minum air sebelum, semasa dan selepas anda bersenam.
Selepas melakukan senaman di atas lantai, bangun secara perlahan-lahan bagi menghindari pening.
Jangan bersenam sampai penat. Jika anda bersenam sehingga anda tidak dapat bercakap dengan baik, bermakna anda telah bersenam berlebihan dan anda patut slow down aktiviti anda.
APAKAH TANDA-TANDA ANDA PATUT BERHENTI BERSENAM?
Anda patut berhenti bersenam bila anda:
Sakit dada
Sakit di bahagian perut, pelvic dan contraction berterusan
Pening kepala yang tidak hilang dengan rehat dan Tylenol
Rasa seperti nak pitam, pening, dan nak muntah
Rasa sejuk
Berdarah pada bahagian vagina
Keluar air secara tiba-tiba daripada faraj atau titisan cecair bocor secara berterusan
Perasan degupan jantung anda jadi tidak tentu dan pantas
Bengkak pada ankles, tangan atau di tangan atau di betis
Kesukaran bernafas
Susah untuk berjalan
Otot terasa lemah
Call doctor jika masalah itu berterusan selepas anda berhenti bersenam.
APAKAH TANDA-TANDA ANDA PATUT BERHENTI BERSENAM?
Ianya lebih baik untuk tanya kepada doktor, kerana procedure bersalin yang berbeza mempunyai masa recovery yang berbeza.
Walaupun anda sudah tidak sabar untuk kembali kepada shape asal anda, anda tetap perlu mengambil kira pendapat doktor agar tubuh anda sihat untuk jangka masa panjang.
Ibu-ibu yang ada masalah kesihatan seperti asma, penyakit jantung, dan diebetes Type 1 tidak disarankan bersenam. Senaman juga tidak digalakan pada yang mempunyai keadaan obstetrik seperti:
Bleeding dan spotting
Cervix yang lemah
Perokok tegar
Kurang berat badan (BMI <12)
Berat badan berlebihan
Bronchitis yang kronik
Anemia yang teruk
Hemodynamically significant heart disease
Restrictive lung disease
Incompetent cervix/cerclage
Multiple gestation at risk for premature labor
Persistent second- or third-trimester bleeding
Placenta previa after 26 weeks of gestation
Premature labor during the current pregnancy
Ruptured membranes
Preeclampsia/pregnancy-induced hypertension
History of extremely sedentary lifestyle
Intrauterine growth restriction in current pregnancy
Poorly controlled hypertension
Orthopedic limitations
Poorly controlled seizure disorder
Poorly controlled hyperthyroidism